READ MORE
Genres: Dark Fantasy, NA Fantasy, Fantasy | Release Date: 4 April 2023 | Series: Gardens of War & Wasteland | Series Book: #1 | Pages: 359 | Indie Author | Review
Overview:
I'm *so* grateful to Jessica A. McMinn for letting me read an e-ARC of her debut dark fantasy, The Ruptured Sky! This incredible tale is such an exciting read, featuring a slow build of suspense which soon becomes an array of fireworks halfway through. And let me tell you, from that point on I was kept on the very edge of my seat! So what's this beauty about...
Princess Amikharlia left her homeland behind years ago, in a bid to escape the restrictions of her royal life. Desperate to escape an arranged marriage, Amika didn't care where she went. But years later, when she's recruited as a demon huntress to go into Li'Nea Wood? Amika's freedom of choice comes crashing down onc…
You won't want to miss these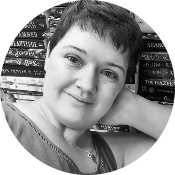 HELLO THERE
FELLOW BOOKWORM
I'm Anne — with an e.
I live in Australia, am owned by two cats and I'm Immersed in Books.
For more about me and this blog, click on About in the menu.
I look forward to getting to know you better in the comments and sharing a bookish adventure or two with you.
The links below, and others on this site are affiliate links. I'll earn a small commission if you use them to make a purchase. Not only will you be supporting these great booksellers, but making it possible to keep this blog online and the reviews coming.