Genres: Epic Romantic Fantasy, Epic Fantasy, Romantic Fantasy | Release Date: 16 February 2023 | Series: The Legends of Thezmarr | Series Book: #1 | Pages: 548 | Indie Author | Review
Overview:
There is something so special about getting a new story from Helen Scheuerer, and Blood & Steel is no exception! I was lucky enough to get an e-ARC of this epic romantic fantasy, and it left me both breathless and on tenterhooks for what's to come. If you've loved Helen's previous books, but wished for a story with a touch more spice? This one is going to be your new favourite read…
Althea Zoltaire is on a time limit. Given a fate stone at birth, Thea has just three more years left before she'll die at twenty-seven. Her only desire is to become a Warsword, a warrior legend. But women aren't allowed to wield blades, and changing the rules for her might change the course of the entire midrealms' future. With very few allies, Thea's training is just one step away from deadly, and evil is about to unleash on Thezmarr. Can Thea pass the initiation test and get one step closer to her goal? Or will this growing desire between Thea and Wilder Hawthorne, the Hand of Death, derail her plans? The Veil can no longer keep the midrealms safe, and a darkness is reaching across the lands…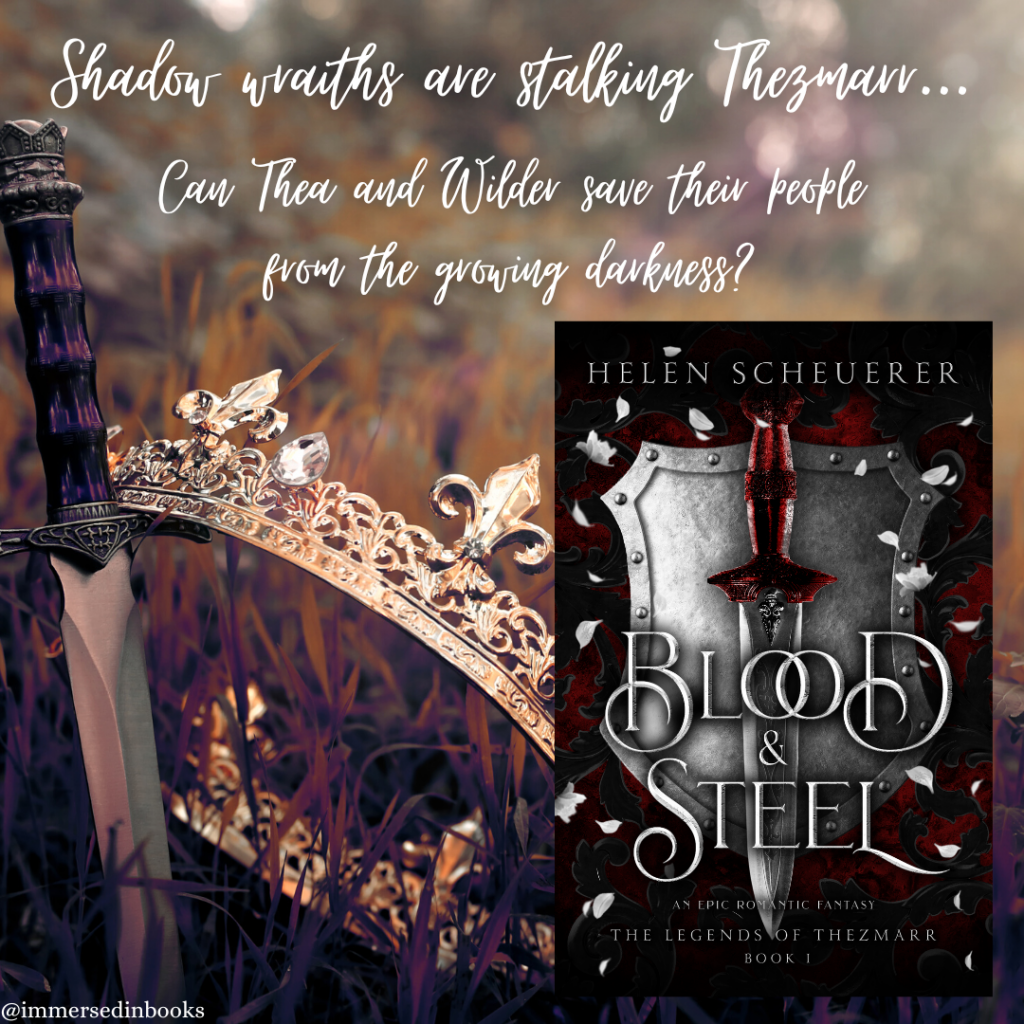 Happiness Boost:
Blood & Steel immediately sets the tone with a damning prophecy, and it just grows ever more dark and ominous from there. Set in the same universe as Helen's two previous series, this epic romantic fantasy is a rich tapestry of the midrealms, and the monsters that stalk the edges of the world… My heart was in my throat so many times during this tale! It seems effortless, for Helen to give us bookworms the perfect escape from reality.
Wilder Hawthorne needs to have his own happiness boost. I got Aragorn (The Lord of the Rings) vibes, but this is no carbon copy! Wilder is a noble (and almost tragic) figure, who has cut off a lot of his emotions to survive the perils of the midrealms. I love that when Thea comes into his life, this grumpy, melancholy hero is forced to feel again. He also has a dry humour and an intensity about him, which makes his initially begrudging assistance that much more adorable.
Friendships forged during adversity make for the strongest of bonds. Blood & Steel highlights this with Thea's friendship with Cal and Kipp, two fellow trainees. I *love* that there's banter, as well as difficult truths that they learn to navigate as a team. Once again, Helen emphasises how no one, not even Thea, can get through life without people in their corner. And even during the worst of times, having that kind of bond with others is what can make or break a person. Plus, the sisterly bond between Thea and Wren? It is perfection. There are many chaotic threads weaving throughout their story, but at the heart of it is their steadfast love.
Downside:
I have none! I just want to hug this book to my heart, I love it!
Final Thoughts:
Blood & Steel by indie author Helen Scheuerer is an epic romantic fantasy full of death, love and immense courage. It is a no brainer that I love it, this beautiful tale lives and breathes with every beat of my heart. And it begs the question, if we were told we'd die by twenty-seven, would we be as courageous as Althea? Could we face the world like she does? Thea joins Bleak and Rohesia in my bookish soul as the heroines I most aspire to be like… And I'm grateful that once again, Helen gives us a troubled heroine with a bold spirit and big dreams. Love what you've heard from my review? Click on any of the links below and pre-order this amazing book! Happy reading, glitterbugs!
You can pre-order Blood & Steel via these links: