Genres: Young Adult, YA Historical Mystery, Murder Mystery | Release Date: 10 September 2019 | Series: Stalking Jack the Ripper | Series Book: #4 | Pages: 465 | Publisher: Jimmy Patterson | Review
Overview:
Capturing the Devil by Kerri Maniscalco is a mesmerising YA historical mystery, complete with twists and turns that had me rushing to the end! This final book in the Stalking Jack the Ripper series completely lived up to my (admittedly very) high expectations…
In this instalment, Audrey Rose and Thomas are working to locate the White City Devil murderer. More and more women are disappearing from the streets of Chicago, and the terrible thing is that there may have always been two 'Jack the Ripper' killers. Will Audrey Rose's heart survive the new revelations about the people she loves most? And can they bring this murderer to justice? The serial killer is focused on Audrey Rose, and one wrong turn could mean her death…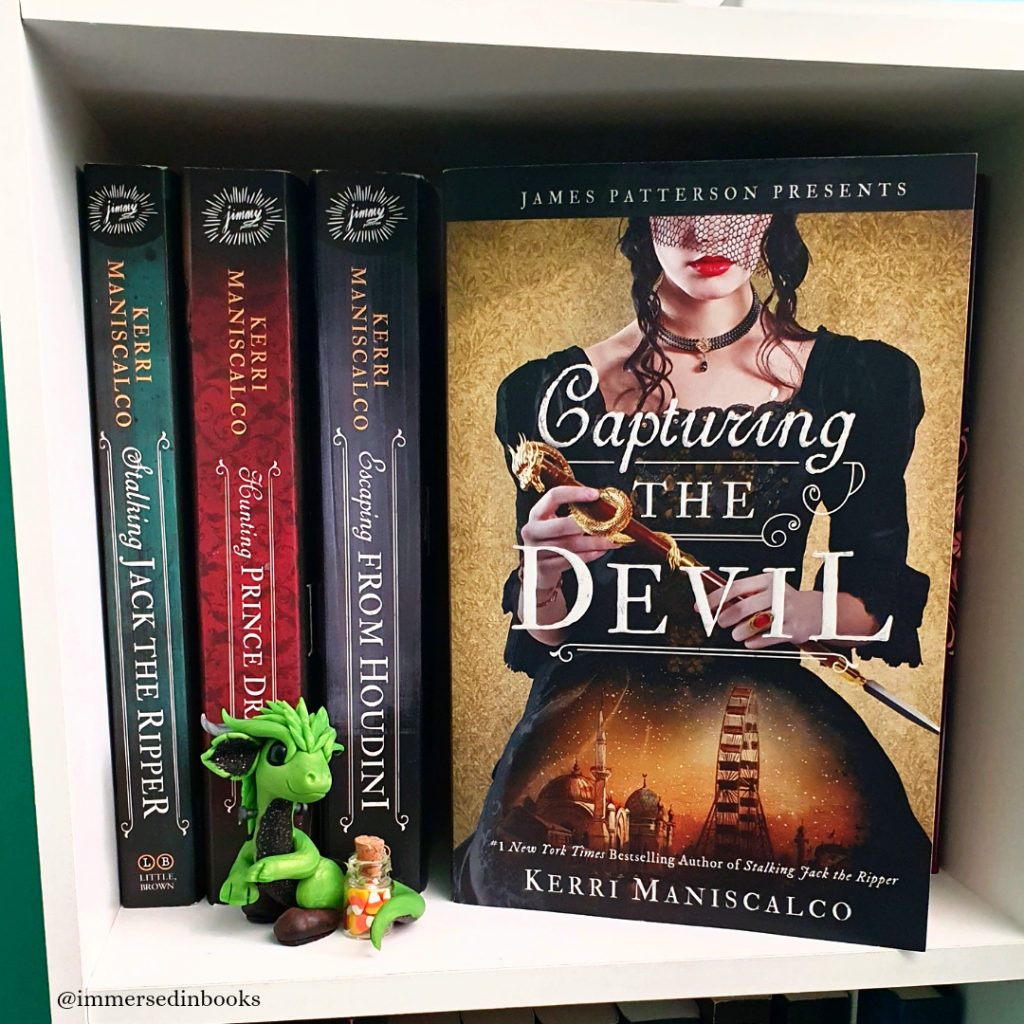 Happiness Boost:
During the Victorian era, there was an urge to conform to femininity. I think Kerri handled this element superbly within Capturing the Devil! Just because Audrey Rose wants to marry Thomas, that doesn't mean her values and goals have to change. Bit of a slight tangent, but as someone who studied Victorian women's writings and did a thesis on this very thing? It's like coming home. I love that Kerri lets her characters aim for a happily ever after, without reducing their other dreams and capabilities.
Audrey Rose has to use a cane now, after being injured in the last adventure (Becoming the Dark Prince). I actually enjoyed that she has a physical limitation, that not everything comes easily for our heroine now. The fact that she doesn't have a charmed life? I love it! Am I horrible for saying that? Probably… But so many protagonists have everything go right for them in their stories, and this was a refreshing change.
Although their relationship has well and truly progressed, Thomas and Audrey Rose haven't lost their quirks. And the comments Thomas makes when he's trying to regain Audrey Rose's attention (training spiders to dance to show tunes), lifted my heart. In my eyes, murder mysteries are best when there's some lightness to them. Capturing the Devil certainly delivers that, and in just the right places!
Downside:
I don't quite know how to feel about a certain revelation in here. I don't want to give away a spoiler, but suffice to say it left me with a few questions: like are there degrees of evil which are acceptable? Or more forgivable? And I'm talking actions that are still quite horrible, which nobody 'good' would ever contemplate doing… It's a bit of a pickle. I do love the story and the intriguing mystery, but the moral dilemma was a tricky one.
Final Thoughts:
Kerri Maniscalco's Capturing the Devil has been the perfect ending to the Stalking Jack the Ripper series. It gave us murder, mystery and so very much to love! Audrey Rose expanded her horizons so much in this novel, without losing her sense of self; her character arc across the whole series has been wonderful to read. I'm sorry that this is the end, but at least I can always go back to the beginning and read them again… Which I am definitely going to do!
What a journey it's been. If you love historical mysteries? Read this series. It has been the best of adventures, reading about Audrey Rose and Thomas. Happy reading, glitterbugs!
You can order Capturing the Devil via these links: