Genres: Historical Fantasy, Epic Fantasy, Mythology | Release Date: 1 October 2023 | Series Book: #1 | Pages: 386 | Indie Author | Review
Overview:
I'm so grateful to Book Sirens and MJ Pankey for letting me read an e-ARC of Epic of Helinthia! This epic historical fantasy is such an immersive read and takes place in Ancient Greece. Myths and legends abound in Pankey's debut novel, as this fantasy features Olympians, nymphs and the fickle fates which rule the populace…
The island of Helinthia is now a decaying ruin compared to what it once was, as the gods of Olympus have abandoned the realm. A madman is on the throne, and Dargon is hoping to inspire a rebellion against the king. But even with Kelric and Gadnor at his side, will this plan actually restore the favour of the gods? Left behind as the men travel to the heart of the kingdom, Dargon's sister Gonivein is meant to be safe in Shallinath. But the king's spies are everywhere, and the fates have set something terrible in motion. Can Dargon restore Helinthia to the glory it once was? Is there anywhere that is truly safe for Gonivein? And what happens when the gods start to speak, after being silent for so long?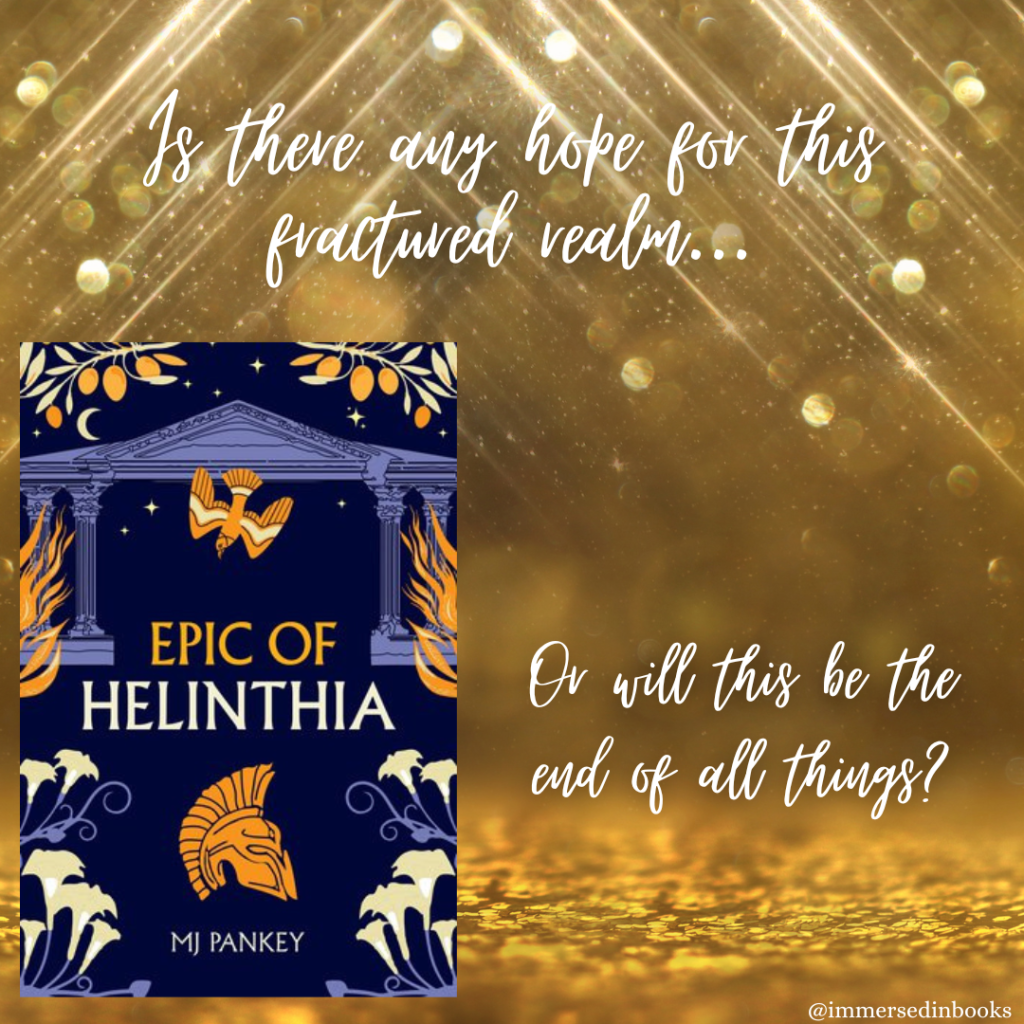 Happiness Boost:
Who else loves Greek mythology?! I know quite a number of books have recently been published featuring this culture, but when it's this good? Please give me more! The gods and their fickle moods are explored here in Epic of Helinthia, but that's just *one* aspect to this multifaceted tale. Not only do we get nymphs and magic, but when legendary evils also arise? My heart was pounding in my chest! Pankey has given us one of the richest narratives in terms of mythology, and it's *really* hard to contain my excitement here in my review.
For some debut authors, their characters just don't have the necessary depth to carry a story. But in Epic of Helinthia? Brace yourselves, dear glitterbugs! We get some of the most morally grey characters you'll ever find, as well as broken heroes and desperate heroines. I can't tell you about my favourite person, because I don't want to give away any spoilers. But seriously… If you love a story with incredibly complex characters? You *need* this on your shelf!
Let's talk about themes, shall we? You've probably guessed that this is a tale of rebellions and gods, but there's so much more within the pages of this historical fantasy. There is betrayal, just as there's redemption. A massive loss (which I'm still pretty devastated about), and one of the biggest surprises I've come across in a book for some time. If you've ever thought you needed something which is akin to The Iliad by Homer? Take a look at this. I know, I know. It's a big call. But you won't regret it, I promise!
Downside:
Some readers might feel like the first few pages are heavy going, in terms of throwing us into the deep end with Ancient Greece terminology. But personally? I loved it!
Final Thoughts:
Epic of Helinthia by debut indie author MJ Pankey is an incredible historical fantasy, featuring Greek mythology and complex characters. And the great news doesn't end there, because this is actually just book ONE of a series! Now stay tuned with me glitterbugs, because you can bet I'll be on the lookout for the rest of this tale in the future. I am *so* excited! If you love the sound of this tale from my review? You can pre-order it now, just click any of the links below to order a copy! Happy reading, glitterbugs!
You can pre-order Epic of Helinthia via these links:
Amazon | Blackwell's | Booktopia | Fishpond