Genres: Fantasy, Urban Fantasy | Release Date: 3 March 2020 | Series: Crescent City | Series Book: #1 | Pages: 804 | Publisher: Bloomsbury Publishing | Review
Overview:
I put off reading House of Earth and Blood by Sarah J. Maas for so long, and now I don't even know why! This adult fantasy novel is an unexpected gem, but I only say unexpected because I was a bit wary of the more urban setting… It's a big change compared to the beautiful Throne of Glass series, or even A Court of Thorns and Roses! But I should've just trusted in SJM, and can promise I've now seen the error of my ways. So let's give you the overview, shall we?
Bryce Quinlan loves partying until daylight, enjoying everything the Crescent City has to offer. But then a shocking murder happens, and the world Bryce knew is broken. And when a similarly brutal murder takes place just two years later, Bryce is paired up with Hunt Athalar (a fallen angel) to find the murderer. But this city holds so many secrets, and not everyone is pleased that these two are searching for answers… Can Bryce find who (and what) she is looking for? Is Hunt capable of being more than just the Lunathion Governor's assassin? And what happens when the alliances within Crescent City begin to break because of this mystery?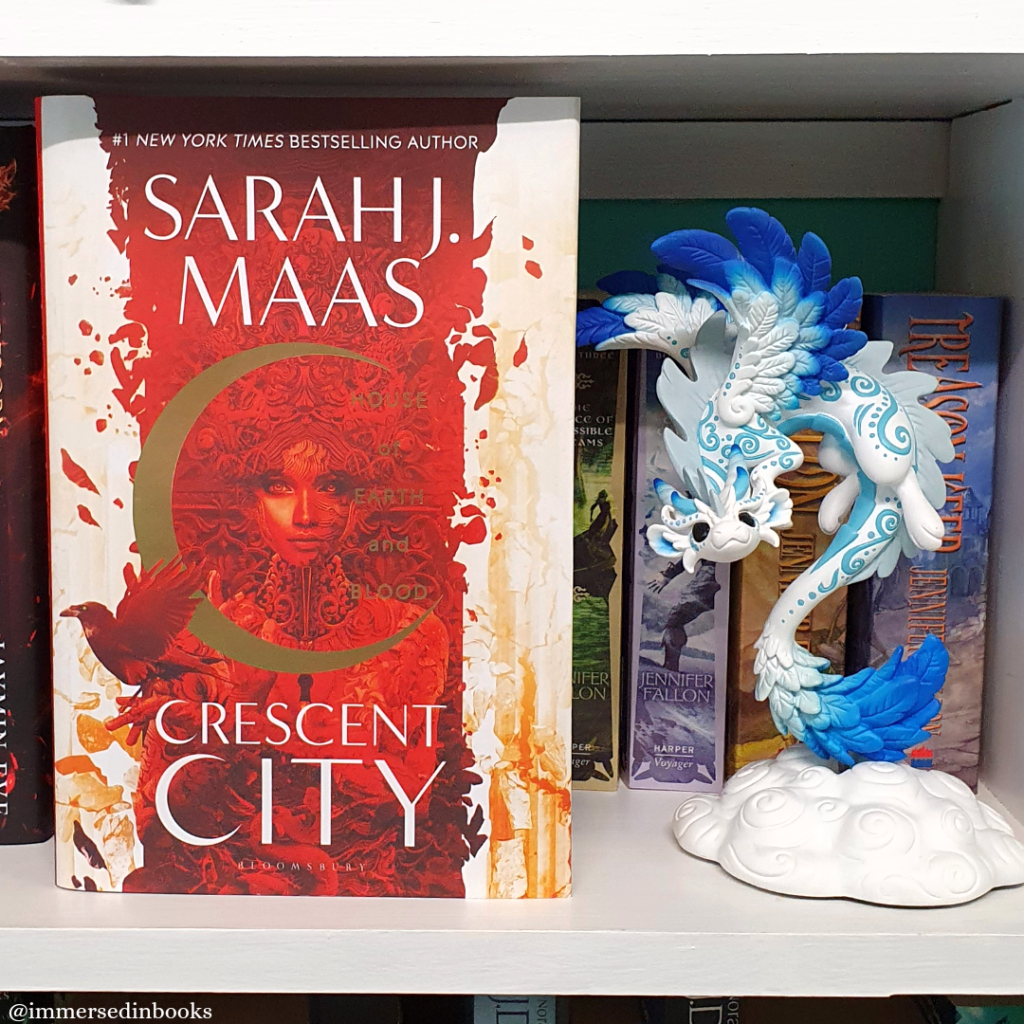 Happiness Boost:
Within House of Earth and Blood, we're given the *full* spectrum of emotions. And I'll be honest, not a lot of authors can simultaneously mend and break me… But SJM does. This fantasy made me cry *so* much; I even had to stop reading at a few different points along the way, because I couldn't see the pages! But what SJM does, and does incredibly well, is give us courage and defiance in the face of grief and defeat. This book will pummel your heart at the same time it fills it with love and hope. Even if you don't read any more of this review, just trust me. Stock up on your tissues, become deaf to the world, and let Bryce's journey transport you to Crescent City.
Now if you kept reading after that endorsement, firstly thank you. I thought I lost you there! For my second happiness boost, I want to mention the characters. I've actually heard a few people gripe that the heroines of SJM's worlds are all the same (likewise the heroes). But I beg to differ. Yes, of course there are similarities, but Bryce is no more Aelin than she is Feyre. And the overwhelming odds she has to overcome? It isn't easy when you're that broken hearted. Likewise with Hunt; literally a slave, he's bound to the whims of whoever holds the leash to his slave markings. Unique, alongside beautiful Syrinx and Lehabah (among others) – I can't fangirl enough about these characters!
It took a while for me to get my head around the setting within House of Earth and Blood. It was much more urban and, ironically, less fantastical. But SJM doesn't leave us to flounder in this new realm. Instead, she brings it to life with rich detail (along with new forms of magic), which is great! And by the way, please tell me we get to go where the mer people are, later on? I badly want to explore that area!
Downside:
Is it okay to have a happiness boost and a downside around the same topic? Because, as much as I hate to say it, we *do* get an info dump about the world when we open this book. Now some might say books like The Lord of the Rings do this too, but I disagree. There's a way to do it, which is almost lyrical and beautiful in and of itself. Tolkien does this. He has carefully woven every leaf twig and blade of grass to give us a rich and wonderfully immersive tale. House of Earth and Blood, much as I love it, was a struggle at the beginning. It was an overload to the senses, and I had to persevere, trusting that eventually things would smooth out.
Final Thoughts:
House of Earth and Blood by Sarah J. Maas is a massive fantasy, featuring a half-fae full of courage and grief. While she doesn't hold a place in my heart quite like Aelin does, I have thoroughly enjoyed this beautiful book. And I promise it won't take me years to get around to reading the next tale! I *promise*. Loved what you've heard from my review? Click on any of the links below and order yourself a copy of this beauty! Happy reading, glitterbugs!
You can order House of Earth and Blood via these links: