It's okay if my October Book Goals are super small, right? *Cue nervous laughter* I'm going to be honest glitterbugs, life is chaotic right now! Both of my floofs are going in for surgery next week, so my mind is taken up by cats instead of bookish goodness… But having said that, let's have a look at what I hope to read, shall we?
What's on the TBR list?
This tiny list is my own attempt to be realistic with a hectic month ahead… But that doesn't mean my October Book Goals are lacking for epic stories! Check out my TBR list:
The Frost Soldier and the Gilded Duty: Maham Fatemi
Aforetime: Lina Ravenhill
Brimstone and Bone: Xavier Kane
The Unblessed Witch: Miranda Lyn
War Queen: Nicolas Tyche
The Moon and the Hunt: Ophelia Wells Langley
Anticipated Releases:
Mark your calendars, glitterbugs! Because these October releases should ALL be on your release radar if you love fantasy! Handily enough, you can see that four of them already have links to my ARC reviews… So if you're intrigued? Click the links to hear my thoughts!
3rd: The Frost Soldier and the Gilded Duty: Maham Fatemi
10th: The Unblessed Witch: Miranda Lyn
24th: Brutal Rival: Ember Holt
25th: Ruins of Bone: Sarah Chislon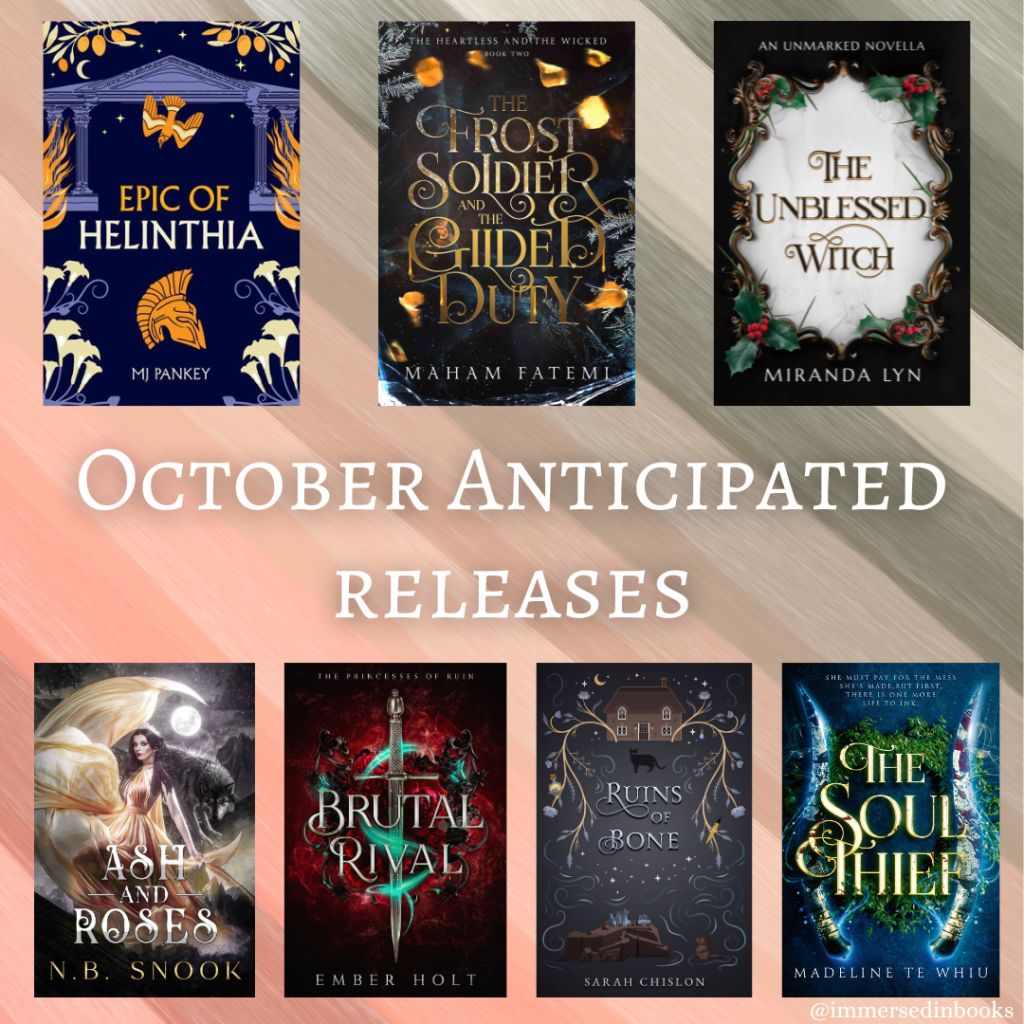 Am I in love with the October releases I've already read? Absolutely! So if you're looking for an epic historical fantasy tale of rebellions and gods? A story of betrayal, redemption and loss? Epic of Helinthia is something you'll want to dive into right now! Do you want a unique Beauty and the Beast retelling instead? In Ash and Roses, this fantasy romance is about so much more than just a cursed beast and his lady love… We get political intrigue, a wider array of characters who make a difference to the plot, and an abusive system the heroine is determined to dismantle. 
I won't lie, Brutal Rival is not for the fainthearted and you'll need to check the trigger warnings. But this dark fantasy romance is full of super spicy goodness, as well as a deadly assassin and a plot to take down an evil Queen… So really, what more do you need?! Well don't worry, because I've got you covered! The Soul Thief is a dark fantasy of pure heartache, deception and a magik which thrives in the darkness and you *will* want this when it releases on the 31st!
Happy reading, glitterbugs! I hope you achieve all of your own October Book Goals, and I'm sure we'll talk soon…