Genres: Fantasy Romance, NA Fantasy, Fantasy | Release Date: 6 April 2023 | Series: Artefacts of Ouranos | Series Book: #2 | Pages: 505 | Indie Author | Review
Overview:
Did I rush to get Rule of the Aurora King by Nisha J. Tuli, straight after reading Trial of the Sun Queen? Of course I did! In fact, if I'm going to make a full confession… I've now ordered every book Nisha's written (or has up for pre-order). If that's not a testament to how much I love her writing, I don't know what is! So let's give you an overview, shall we?
Now that Lor's been rescued from the Sun King's palace, Prince Nadir wants answers. And he isn't afraid to go to extreme lengths to uncover the secrets she's held onto all her life. Even as Nadir vows to help her find the lost Crown, which could determine the fate of Lor and everyone she loves, Nadir confesses his own desire to see the Aurora King fall. But can Lor trust the son of her enemy? And if she can't unlock her magic, is there any hope in claiming her birthright? What happens when doubts and a prophecy threaten to derail everything Lor's fighting for?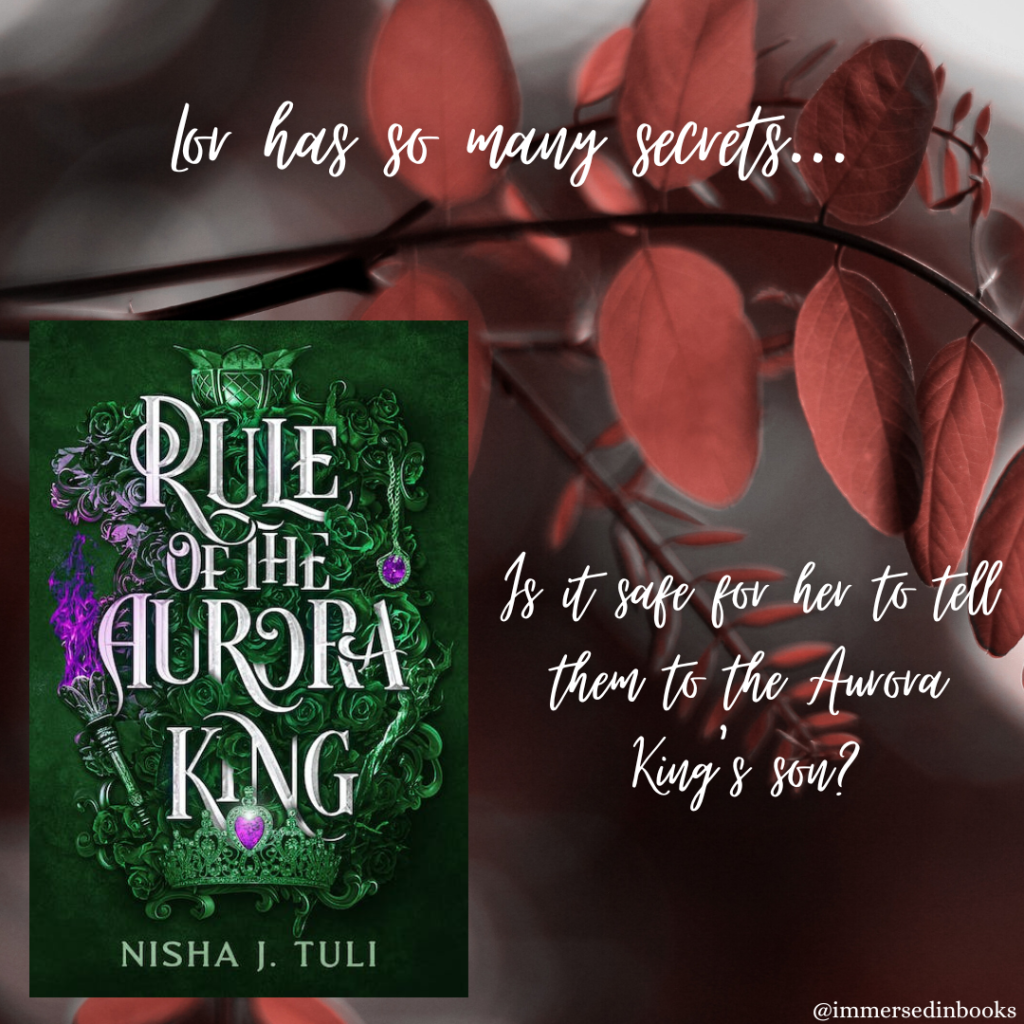 Happiness Boost:
Holy guacamole, a lot has been packed into Rule of the Aurora King! There's so much to love, but at the top of my list is the epic goodness which is the enemies to lovers trope. Lor and Nadir create sparks which could set the book alight, and this broody, dark hero is a perfect combination of hardcore warrior and cinnamon roll. He would go to the very ends of the earth for Lor, and I love that about him. Honestly, tell me he's not one of your favourite MCs and I'm going to call you a liar.
Within this fantasy romance, Nisha's crafted a powerful tale of greed, love and the deceptive ways of the Fae. The Queendom of Heart has been bereft of a leader for centuries, and I frantically rushed through passages as history was unveiled and devastating truths uncovered. Absolute power corrupts, and nowhere is it more obvious than in the rulers who are responsible for the current state of Ouranos. This is an epic storyline, and I'm actually feeling a bit miserable that book three isn't out just yet. I want to read it *so* badly!
Lost heirs. It's such a happiness boost, right?! Rule of the Aurora King is an absolutely wonderful example of this trope, and even though I know the focus is on Lor, I love that Wren and Tristan aren't forgotten. It's not often that lost heirs have family; it's probably simpler to make them an orphan. But the strength of this story lies in its familial connections, and the lengths Lor will go to for those whom she loves. Full credit to Nisha, because this fantasy romance is ticking so many of my favourite tropes and I'm over the moon about it!
Downside:
No downside for this beautiful tale! Rule of the Aurora King is even *better* than Trial of the Sun Queen, so how could I fault it?!
Final Thoughts:
Rule of the Aurora King by Nisha J. Tuli is an absolutely epic fantasy romance featuring enemies to lovers, fated mates and lost heirs… Pretty much the perfect triad, am I right?! I have been a willing captive audience, reading this brilliant story, and I cannot wait to see what comes next! Love what you've heard from my review? Just click on any of the links below to order this amazing book! Happy reading, glitterbugs!
You can order Rule of the Aurora King via these links:
Amazon | Blackwell's | Booktopia | Fishpond