Genres: Fantasy Romance, NA Fantasy, Fantasy | Release Date: 15 November 2022 | Series: Artefacts of Ouranos | Series Book: #1 | Pages: 407 | Indie Author | Review
Overview:
I'd been seeing Trial of the Sun Queen by Nisha J. Tuli absolutely everywhere, and finally had the chance to sit down and read it! This story is just the first book in her NA fantasy romance series, Artefacts of Ouranos, and I'm incredibly excited to see where Lor's narrative leads…
Imprisoned for twelve years because of the Aurora King, Lor's never stopped dreaming of escape. She wants to get out, and find justice for what she's had to endure. When Lor's suddenly whisked away to the Sun King's realm, to compete in the Sun Queen Trials, she doesn't know what is happening. But if Lor can win the trials and the Sun King's heart, she would finally be free. Not only that, as a queen she would have the power to take down her nemesis. But the other competitors want her dead, because these trials can only end with one victor. And if Lor loses, she'll either die or go straight back to the prison she'd been plucked from. Will Lor win these grueling trials? Can the Sun King even be trusted to keep his word? And why did the Aurora King want to punish an innocent child?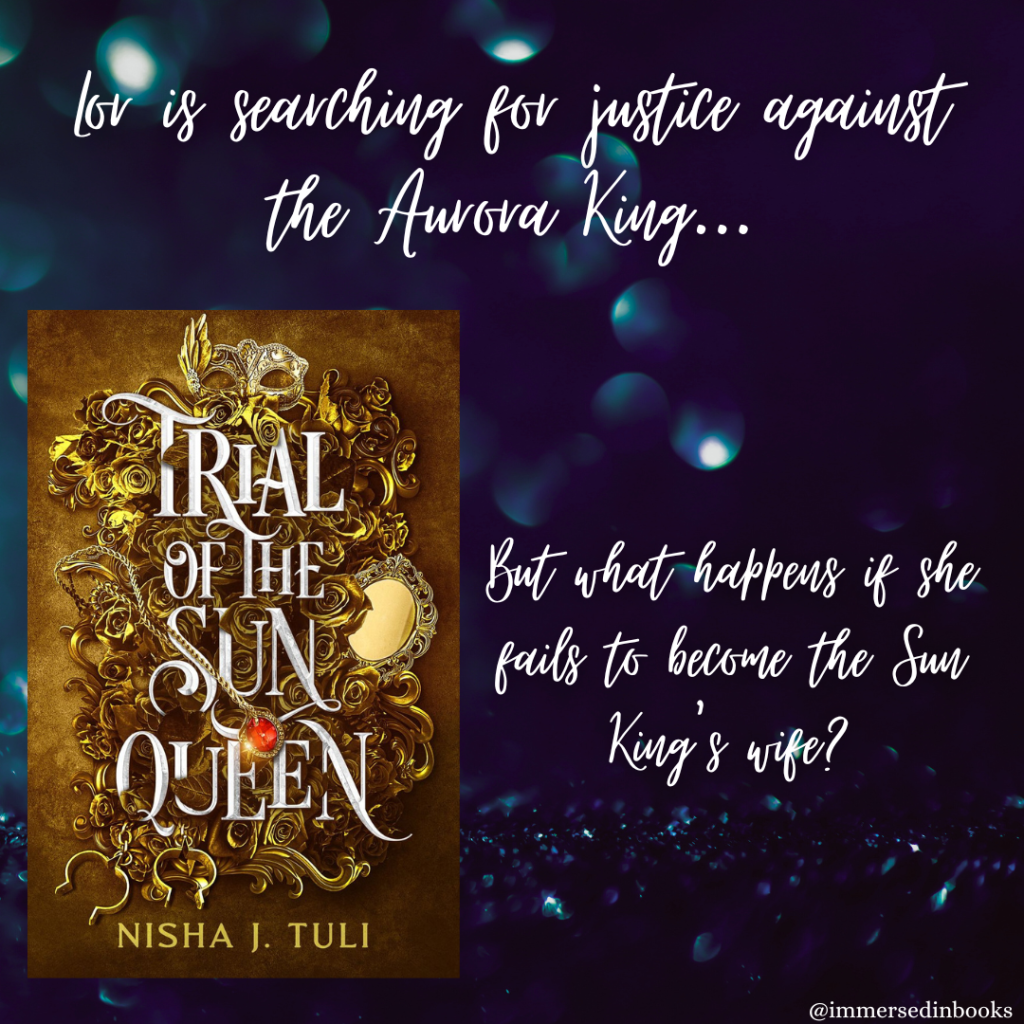 Happiness Boost:
Nisha held my attention from the very first line: 'That bitch took my soap'. Although I didn't have a clue who this person was, or even why soap was important… I was invested! And that didn't end, because with every page I grew to adore the characters within Trial of the Sun Queen more and more. Lor has been beaten down every single day within prison, but ironically the danger just gets even more cutthroat when she's kidnapped for the Sun Queen Trials. I couldn't have cheered her on in her quest any harder if I tried.
Although this story is certainly character-driven, the glamorous setting and atmosphere enhance it by concealing a deadly and treacherous world. We expect the prison to be grim (which it is), but the golden court of the Sun King? The fae women circle Lor, waiting for her to show any kind of weakness. And each stage of the trial is completely terrifying in scope and consequences. That quote of Tolkien's, in which he writes that 'All that is gold does not glitter' is incredibly accurate! Give me more. That's all I'm saying.
Within Trials of the Sun Queen we get uneasy alliances, backstabbing, fated mates and morally grey heroes. There's a snarky determination about Lor, and I was furiously turning pages to find out if she could survive what was thrown at her. There's also a very unexpected friendship, and I'm desperate to see if Lor can save everybody she loves. For someone who is wary of this emotion, she sure knows how to gather good people into her heart!
Downside:
It's probably a little unfair when an author like SJM seems to be the go-to author for comparison. But there are a couple of similarities between ACOTAR and Trial of the Sun Queen, so certain plot points can easily be guessed by fans of Maas. But for me? I'm in love with this novel. And I have it on good authority that the story just gets even better in book two (Rule of the Aurora King)!
Final Thoughts:
Trial of the Sun Queen by Nisha J. Tuli is the perfect NA fantasy romance for anyone looking for a snarky heroine and perilous trials. I'm going to be diving into book two as soon as possible, because I am desperate to find out what happens next! Love what you've heard from my review? Just click on any of the links below to order this amazing book! Happy reading, glitterbugs!
You can order Trial of the Sun Queen via these links:
Amazon | Blackwell's | Booktopia | Fishpond